Category:
app annoucement
​
Today I thought I'd give you a sneak preview of our next app… Conversation Planner!
​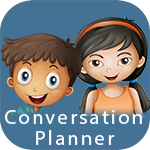 Conversation Planner teaches a step-by-step method to prepare for any conversation or social situation. Kids learn to think about who they are talking to, what that person will expect, when to know the person is ready for the conversation, etc. Conversation Planner gives your child the tools to complete successful conversations.
Conversation Planner provides: – A step-by-step introduction to all the key components of a conversation: how to start, how to finish, how to repair conversation problems, how to know your talking partner is ready, etc.
– A focus on perspective-taking. Learners identify the conversation goals for themselves, their talking partners as well as the expectations of other people around them.
– Students learn and practice their skills using more than 150 real-world, age-appropriate scenarios.
– Students progress only when mastery of the current skill is demonstrated.
– 'At a glance' reporting shows you instantly how your learner is progressing.
– The fun Reward Center motivates even hesitant learners.
Most exciting, this app offers independent AND therapist mode. In independent mode, answers are displayed and the learner taps the correct answer.
In therapist mode, no answers are displayed. For each question, the student answers orally and the therapist identifies whether the learner's oral answer was correct or incorrect. Both modes earn coins for the Reward Center.
We're excited about this new app as kids who struggle with reading comprehension often need support with social skills too.
We haven't got a release date yet, but you can expect it in May!! Make sure you are on our mailing list to hear when we release promo codes during the launch!
I love launch days!  New people visit our  Facebook page. I get emails from excited users.  Some of my favorite "regulars" usually contact me in one way or another.  It's just plain fun!
And best of all, I know that kids have access to one more tool to help them read…talk about 'feel good'!
Today we have free promo codes AND launch pricing ($1.99 for today only!), so get on over to our Facebook page and the app store to get your copy of Main Idea – Short Texts.  If you haven't already got Main Idea – Sentences, you should get that, too!  better yet, get both in our Main Idea bundle for a discount!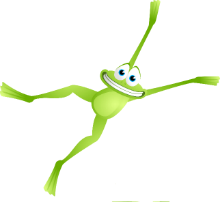 VANCOUVER, B.C., CANADA, SEPTEMBER 30, 2014 – Happy Frog Apps announces the launch of an exciting reading comprehension app bundle for kids. Previously released individually, 4 apps that target key reading comprehension skills are included in the bundle at a discounted price.
Reading Comprehension Mega-Bundle! 4 Apps Target 4 Key Skills – Common Core Aligned includes expertly developed, fun apps intended for children in grades 2-5. The new bundle includes Main Idea – Sentences, Inference Ace, Inference Ace 2, and WH Expert2.
Each game is designed for children who can decode the words they read but can't understand what they are reading. The apps can be handed over to kids for independent play or paired with reading intervention in a therapy or one-on-one setting.
With multiple levels and skill perspectives, Reading Comprehension Mega-Bundle provides an environment that inspires learning. Professionally designed content written by teachers and researchers is implemented to deliver an incremental and supported learning format.
"We're really excited to make these apps available as a bundle," says Janine Toole, founder of Happy Frog Apps. "Research shows that comprehension skills are best worked on concurrently. This app collection provides a cost effective means for parents and schools to reach that goal."
Reading Comprehension Mega-Bundle is currently available on the App Store for $8.99. Further information can be found at the app store.