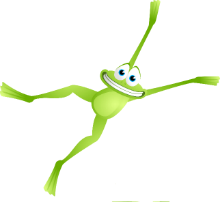 VANCOUVER, B.C., CANADA, SEPTEMBER 30, 2014 – Happy Frog Apps announces the launch of an exciting reading comprehension app bundle for kids. Previously released individually, 4 apps that target key reading comprehension skills are included in the bundle at a discounted price.
Reading Comprehension Mega-Bundle! 4 Apps Target 4 Key Skills – Common Core Aligned includes expertly developed, fun apps intended for children in grades 2-5. The new bundle includes Main Idea – Sentences, Inference Ace, Inference Ace 2, and WH Expert2.
Each game is designed for children who can decode the words they read but can't understand what they are reading. The apps can be handed over to kids for independent play or paired with reading intervention in a therapy or one-on-one setting.
With multiple levels and skill perspectives, Reading Comprehension Mega-Bundle provides an environment that inspires learning. Professionally designed content written by teachers and researchers is implemented to deliver an incremental and supported learning format.
"We're really excited to make these apps available as a bundle," says Janine Toole, founder of Happy Frog Apps. "Research shows that comprehension skills are best worked on concurrently. This app collection provides a cost effective means for parents and schools to reach that goal."
Reading Comprehension Mega-Bundle is currently available on the App Store for $8.99. Further information can be found at the app store.