​
"Say It… Or Not?" is now available on the App Store with a HUGE launch day discount of 75% off!
Usually $US14.99, the app is available today only for $3.99.​
The "Say it…or not?" app helps children with autism filter their thoughts and provide appropriate responses in awkward or frustrating social situations.
Over 100 real-life situations with over 400 possible responses provide a wide variety of practice in dealing with challenging situations.
Students learn perspective-taking when they consider how someone would feel after hearing a specific response. Students also practice identifying if a specific response is 'okay to say'. Lastly, students identify which response choice is best.
Designed for independent use, the app also includes therapist mode for expressive language practice.
Other benefits:
FRUSTRATION FREE: Your child will always be guided to the correct answer
REWARD CENTER: Fun and engaging Reward Center increases motivation
EASY TO USE: Can be used independently (just hand it over: your child will know what to do!) or with a therapist/parent for intervention
EXTENSIVE REPORTING: for up to 10 players to suit the needs of parents, teachers and therapists
We're excited about this new app as kids who struggle with reading comprehension often need support with social skills too.
Grab it now! 75% off on launch day!​
We're excited! Our first book officially launches today! And we are celebrating with 50% off!
How to Talk with Friends is a step-by-step social skills curriculum for children with Autism. It is targeted to the 8 to 12-year-old age group, but is easily adaptable to older or younger audiences who need support in engaging with their peers.
Already we have some great reviews on Amazon! Here are just some snippets from the current reviews. Head on over to Amazon to read the reviews in full.
"Wow! This is truly an excellent resource!"
Autism Mom
"The program is a great guide to teach children how to have meaningful conversations."
Sarah S.
"This program is definitely worth your time and investment."
Dee E.
If you work with children with Autism, or live with one, this manual should be in your hands. Click below to check out the book on Amazon… and grab the discount while it is available!
Regular price: print $39.99 Kindle $19.99.
Launch week: Print $19.99 Kindle $9.99​
​
We are super excited to let you know that our first book is nearly ready for release. Here's some information to get you excited…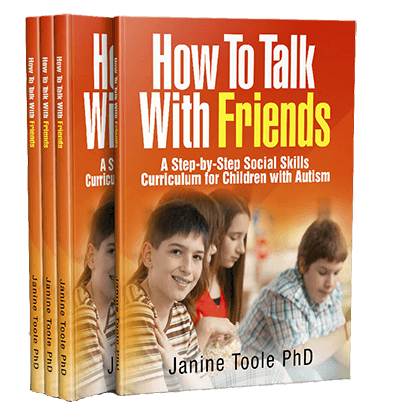 How to Talk with Friends
A Step-by-Step Social Skills Curriculumfor Children with Autism​
This hands-on manual provides everything you need to run a successful social skills group or one-to-one intervention for children with autism spectrum disorder (ASD) or similar social skill deficits.
Making friends and maintaining friendships is a struggle for these learners. The How to Talk with Friends curriculum teaches ASD learners the key skills they need to talk and engage with their peers.
This manual is organized into two parts. Part 1 provides the background information you need to run a successful social skills group. Individual chapters cover the course content and structure, course preparation, and course delivery and assessment.
Part 2 contains the twelve lessons of the course. Each lesson provides step-by-step instructions for pre-session preparation, session delivery and assessment, and parent communication.
Available in print and Kindle in November 2016​