FOR IMMEDIATE RELEASE
Math Vocab Apps Fill A Fundamental Gap!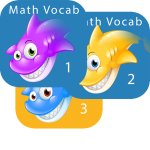 VANCOUVER, B.C., CANADA, April 21, 2015 — Happy Frogs Apps announces the release of 3 apps in their Math Vocab series. These apps introduce the key vocabulary needed for success in math in the early elementary grades.
Math Vocab 1 launches today and teaches the most important words needed to succeed in Grade 1 math. Fun activities step the user through the 4 key stages of learning from recognition through to using the word appropriately in context (most apps miss this step!)
Children who struggle with math often don't understand what they are asked to do. They don't know the meaning of the words.  These apps ensure they understand AND can use the key terms.
The app builds word skills in a fun, game-like environment based on the latest research in vocabulary development.
Janine Toole, founder of Happy Frog Apps, has this to say about the app: "We are thrilled to offer these apps as they fill a gap in the app store.  We know kids will develop stronger math skills once they know what the questions are asking!"
Math Vocab 2 and 3 launch on April 25 and 28.
The Math Vocab apps include:
• Incremental and guided learning for less frustration
• Fun and engaging Rewards Center
• App supports up to 10 players and includes extensive reporting for teacher/therapist use
• Content designed by professional educators
Pricing and Availability:
The Math Vocab apps are available in a free and paid edition for iOS.  The free edition includes 4 free levels for a single user.  Additional users and levels are available with in-app purchases.  The School Edition has no in-app purchases. It is available for $4.99 and has up to 10 players and all levels available.
For launch day only, the School Edition is available for $3.99!
Further Information:
Website: http://www.HappyFrogApps.com
App video: https://youtu.be/c35xlTA0HhQ
About Happy Frogs Apps
Happy Frog Apps creates fun apps that teach the foundation skills for reading comprehension. Happy Frog Apps is founded and led by Janine Toole, PhD, a keen reader who finds that her education and extensive experience in Linguistics, software development and special needs learning provides the perfect mix for the creative pond that is Happy Frog Apps.
— ### —