Hello everyone!  We've had a quiet summer here at Happy Frog Apps.  We are a family-oriented business, so summers are low-key as we spend time with our families.
But we are excited to announce our plans for Fall as they include some exciting new apps!
First out of the gate will be School Words 1.  This is the first in our new grade-by-grade series that teaches the 30-50 key vocabulary words that are needed to succeed in each grade. For all kids, School Words 1 is a great place to start to ensure no learning gaps.
This app is important because children who struggle in school often don't understand what they are asked to do. They don't know the meaning of the words. This app ensures they understand AND can use the key terms.
Our next app will be the first in another new series.  Reading Comprehension Grade 3 will provide reading comprehension skill development for… you guessed it… kids in Grade 3 and older struggling students.  Unlike other reading comprehension apps, our apps will analyze your child's performance by skill level. So you'll know exactly what your child's strengths and weaknesses are.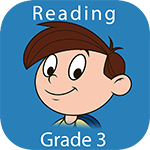 Our third app will be helpful for earlier learners.  Wh Questions will build strong skills in answering WH questions such as What, Where, When, Why, Who and How.  Vital skills needed to demonstrate that you understand what a text is about.

We are thrilled to be adding these new apps to our collection of high-quality, award-winning apps for children.  Look for announcements in October for release dates!