30 Days of Fun Reading Activities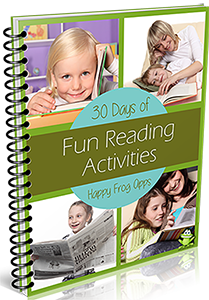 Kids who struggle with learning often don't like to read.
Sneak in the needed practice with these FUN activities.
They'll never realize they are doing reading practice!
Why Do I Need This Ebook?
1
Reading is Important

Kids need to be proficient readers to succeed in every subject in school… even math!

Don't let your child struggle.
2
Minimal Prep

Everything you need is in your house right now.

When it is time to read, just choose an activity and get started.
3
Reusable

At the end of 30 days, start right back at the beginning.

It's easy to switch up each activity so it is fresh.